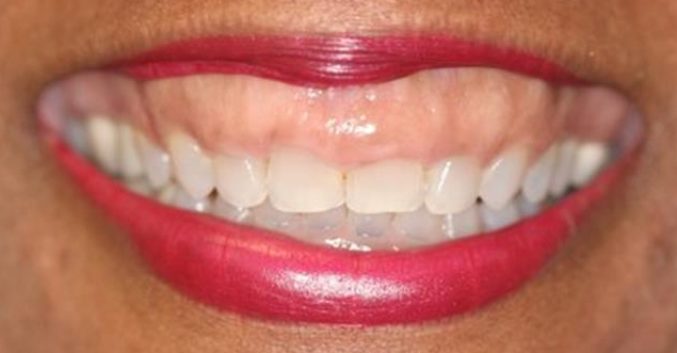 Gum Lifts, Gum Reshaping and Gum Re-Contouring… Everything You Need to Know
26th July 2019
Many people find that they have problems with their gums, either showing too much tooth (typically on the upper front teeth) and looking long in the tooth or not showing enough tooth and having a gummy smile. This blog post is dedicated to helping people understand more about how dumb lifts, reshaping and recontouring can help with a gummy or long in the tooth smile
We are going to break this blog post down into 2 sections:
gummy smile
long in the tooth smile
Treating a Gummy Smile
There are a few different ways to treat a gummy smile:
Gum lift, also known as gum reshaping or gum recontouring.
Botox or similar Botulinum Type a Toxin
What is a gum lift?
A lift would typically be undertaken on someone who shows a lot of gum on the upper teeth when they smile AND their teeth appear too small/short.

Image credit: Ramu coolhimesh – Own work, CC BY-SA 3.0, https://en.wikipedia.org/w/index.php?curid=49474133
The reason both of these criteria need to be in place is because if we removed gum from someone who's teeth looked too long then this would make their teeth look even longer, if this is you then an alternative treatment may need to be sought.
The Gum Lift Procedure
Prior to the surgical phase of the gum left your dentist will usually go through some form of pretreatment diagnosis and planning. This can very often involve production of a surgical guide.
Dental impressions will be taken of your existing smile and sent to a laboratory, they can then work out the ideal amount of gum to be removed, a plastic guide can then be manufactured following this contour of where the gum should be removed, the plastic guide can then be placed back into your mouth and this shows your dentist exactly how much gum needs to be removed. The treatment can also be used for an even gums and treating an uneven gum line.
Image credit: www.elitedental.com.sg/aesthetic-gum-lift/
The gum lift is very often performed using a special laser which cauterises the gum as it goes meaning you have very little bleeding , the healing process is also very quick.
The soft tissue in your mouth, such as your gum tends to heal incredibly quickly and after only a few days the pain should have gone and you should begin to see the new results of your beautiful smile.
Treating a Gummy Smile with Botox
whilst a gum lift treats the gums to improve the look a gummy smile, treatment with Botox treats the lips to hide the gummy smile, rather than the gum tissue.
Very often a gummy smile is caused by the lips pulling back too far from your teeth when you smile, treatment with Botox can help to reduce the amount of muscle movement when you smile and relaxed the top lip. This has the effect of showing less gum in a broad smile and making the gummy smile look less pronounced.
Not everyone is suitable for this less invasive treatment as it depends upon the reason for your gummy smile. If it's because your teeth are too small then treatment with Botox may only go a small way to helping, you may need a small amount of gum lift re-contouring surgery in addition to the Botox.
What can I do about my receding gums?
Receding gums and gum recession are on the opposite end of the spectrum to gum lift surgery. Receding gums are a natural phenomenon which happened as we age. The bone in your jaw tends to resorb and as it does so this takes the level of the gum with it, the older we get the less bone density and volume we have in our mouths and the longer our teeth look. tTooth sensitivity is also exacerbated with receding gums as the more sensitive dentine of your tooth becomes exposed.
Poor oral hygiene can also lead to gum recession caused by gum disease. As the gums become inflamed and infected the bone underneath begins to resorb and pull away, this then means the gums reduce in size also. This process can continue until the inflammation and/or infection is under control. Good oral hygiene with a good brush and floss technique is the best way to prevent this.
Gum re-contouring surgery including gum grafts may be able to help if this is severe. A gum graft involves taking a donor area of oral soft tissue, usually from the roof of your mouth, and then crafting it over their front of your teeth in order to produce a new cosmetically pleasing gum line.
How to Prevent Receding Gums
If your gum recession is due to age then this can be very difficult to prevent as everyone ages!
There are however a few things you can do to keep the resort option under control.
Switch to an electric toothbrush with a pressure sensor. Sometimes patients brush too hard using a conventional toothbrush, this can then damage the gums which respond by resorb in. Many electric toothbrushes have pressure sensors and using one of these can highlight if you are pressing too hard when you clean your teeth.
Brush from the gum towards the tooth. If you brush the other way round and away from the neck of the tooth, reversing the brushing action and brushing the gum back down onto the tooth can have a long-term effect and help to reduce the amount of gum recession.
Avoid over cleaning in one area. Many people, particularly if they use a manual toothbrush, find that their lower right hand area of the teeth gets over brush with a manual toothbrush, this is typically around the lower right canine (eye tooth) area. This over brushing can again result in gum recession.
Back to Latest News