Using Invisalign to discreetly straighten your teeth
18th March 2016
Invisalign is one of the most popular discreet orthodontic devices available. At Aesthetic Smiles in Leicester this is just one of the ways our skilled dental team can straighten your teeth without the whole world knowing you are undergoing treatment.
The problem with metal braces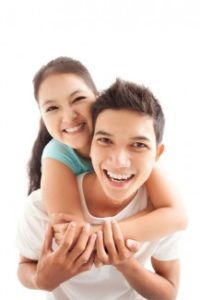 Braces remain an excellent way to straighten teeth. However, as well as being effective, traditional metal braces are also pretty obvious in your mouth in everyday life. Whilst teenage patients often enjoy being able to personalise and customise their braces, older patients can find the concept of wearing obvious metal devices for an extended of period of time distressing to the point where they decide to just put up with crooked teeth.
At Leicester's Aesthetic Smiles we are always keen to point out that there are health benefits as well as aesthetic ones to straightening your teeth. In a nutshell, straighter teeth are easier to clean, which helps to minimise your chances of developing tooth decay and gum disease, thus diminishing your chances of tooth loss.
However, we also understand and empathise with the concerns of people who do not want to wear obvious metal braces. That's why the dentists at our Leicester practice offer a number of more discreet ways to straighten your teeth. Invisalign clear aligners are a very popular and effective option.
How Invisalign works
Unlike braces, Invisalign aligners are removable. They are made from clear plastic and are custom-designed to fit perfectly over your teeth.
Your dentist will prescribe you a series of Invisalign aligners. The exact number of aligners will depend on the amount and type of correction required, and your dentist will tell you how many you will need when you start treatment.
You need to change your Invisalign aligners regularly, and pay frequent visits to our Leicester dental practice to monitor your treatment. You also need a retainer at the end of treatment.
Back to Latest News