Smile With Your Teeth, Not Your Gums
17th September 2015
Some people are unhappy with their smile, when all they see are gums instead of teeth. Indeed, the 'gummy smile' makes them conscious about their mouth, which is bad for their self-esteem.
What is it?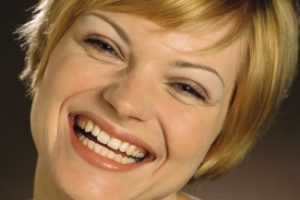 A gummy smile happens when people show excessive gum tissue that goes beyond the normal gum line. Doctors note that around 14% of women and 7% of men have excessive gingival exposure when smiling. Although it does not have detrimental effects in oral health, it may cause some people to lose confidence.
Why does it happen?
Abnormal teeth eruption may lead to a gummy smile. Some teeth do not grow in proportion with other teeth, making them look smaller than the gums.
Short teeth due to excessive tooth wear and tear are a culprit behind gummy smiles as well. Gum tissues may grow longer to make up for the lost tooth length and maintain a proper bite.
Deviations in upper jawbone development may be another contributing factor. An excessive bulging protrusion of the upper jaw may give the appearance of a gummy smile.
How do you solve it?
Doctors perform gum contouring to fix gummy smiles. They use lasers and other cutting tools to remove excess gum tissue and reshape it, allowing the teeth to show through when people open their mouth. In other cases, they may have to remove some bone along with the gum tissue.
Gum contouring is safe and painless as doctors apply anaesthesia and avoid touching the teeth's roots during the procedure. Patients may experience only a little soreness after the procedure. It takes one day to complete the treatment and only a few days for the gums to fully heal.
Saying goodbye to a gummy smile
A gummy smile can be bad for self-esteem so this is not something people should be stuck with. With the right cosmetic dentist, people can smile with their pearly whites showing through—not their gums.
At Aesthetic Smiles, we can help you smile with your teeth, not your gums. We provide complete gum contouring services to help you feel happier and more confident about your smile.
Click here for more information about our services.
Back to Latest News