Six Month Smiles: the discreet way to straighten your smile
1st April 2016
Many adults dream of having straighter teeth, but the thought of wearing traditional metal braces is a nightmare. Whilst braces remain, in many cases, the best method of straightening teeth (giving your dentist or orthodontist maximum control over tooth movement) it's not hard to understand why obvious metal braces are incompatible with busy adult lifestyles.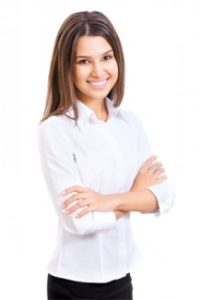 At Aesthetic Smiles dental practice in Leicester, we offer a more discreet alternative: Six Month Smiles cosmetic braces.
Six Month Smiles are orthodontics for the 21st Century. They take the traditional principles of orthodontics and modernise them, acting far more quickly than standard braces whilst also blending in with the natural colour of your teeth.
These braces are made from clear ceramic brackets and tooth-coloured nickel-titanium wires, so they are not immediately obvious in everyday life. As the name indicates, average treatment time is just six months, with some cases being complete in as little as three months.
Six Month Smiles are cosmetic braces, which means they are not designed for major orthodontic correction. They work so quickly because they focus on the front six to eight teeth – those that are on show when you flash a smile.
It's also worth remembering that, while these are first and foremost designed for cosmetic correction, Six Month Smiles are also beneficial to your oral health. Straighter teeth are healthier teeth, because they are easier to keep clean. With fewer gaps in which particles of food can get trapped and plaque or tartar can build up, your chances of developing tooth decay and gum disease are reduced – with good dental hygiene and regular visits to our Leicester dental practice, of course.
Six Month Smiles are also more comfortable than traditional braces. Once treatment is complete you will need to wear a retainer in order to ensure your teeth stay in their new position.
Back to Latest News