Looking to revamp your smile? Choose cosmetic dentistry in Leicester
7th August 2019
When you pose for selfies or group pictures, do you smile with your mouth closed? Have you been less than confident about your teeth for a while?
If you are one of the millions of people across the UK who want to give their teeth a bit more than a simple dental check-up every six months, cosmetic dentistry could be the answer you are looking for.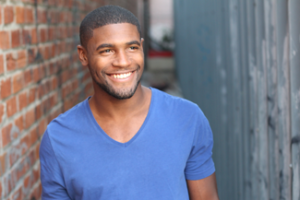 Cosmetic dental work is becoming routine and many dentists around the country are trained in how to help you get the brightest smile. At Aesthetic Smiles, we can offer you a wide range of cosmetic dentistry in Leicester and are able to help you spread the cost, so you can focus on getting that bright, gleaming smile you deserve.
What are the different types of cosmetic work available?
As dentistry has evolved as a general practice, so have the range of cosmetic procedures that we can offer to our customers. Depending on how you want your finished smile to look, we can design it with you and then help you to create it. You take the lead, we will not pressure you into procedures you don't want – it's your smile after all!
Examples of the most popular procedures of cosmetic dentistry in Leicester are very varied.
Tooth Whitening
Perfect if your teeth are stained or discoloured, teeth whitening is a common procedure carried out by us. With our professional power whitening treatments, your smile can be gleaming within an hour. We also offer home whitening kits to maintain and improve the whiteness of teeth.
Tooth Reshaping
Used to create a more symmetrical smile, tooth reshaping is often a combination of dental veneers and white composite fillings– very popular with customers who have gaps or chipped teeth.
Porcelain Veneers
A very sought-after piece of cosmetic work, porcelain veneers not only improve the overall appearance of your teeth, but they also straighten and whiten them instantly too.
Metal free crowns
Our metal free crowns are commonly used when we are creating a bridge piece or a dental implant for a customer who has missing teeth; the porcelain appearance creates a more natural look and the crown can be made from a range of different materials. Metal free crowns are also a great solution when you have had a tooth restored.
Smile makeovers
Smile makeovers can combine several treatments or involve other work to improve your smile's appearance to give it extra appeal. This can be a perfect boost to your glamorous looks if you have a wedding coming up or just want to treat yourself!
Our cosmetic dentistry team in Leicester will assess your teeth and give you a recommended combination of treatments that they think will be of most benefit to you and then, your smile makeover will begin!
When you come to Aesthetic Smiles for your cosmetic dental work, we aim to provide you with a warm, friendly, caring atmosphere. Our dental team will guide you through every procedure you undertake and answer any questions you may have.
Call us today!
Back to Latest News