Invisalign: the discreet way to straighten your teeth
1st February 2016
Invisalign is the perfect way to correct a range of mild to severe orthodontic problems without the whole world knowing you are having treatment. Here at Aesthetic Smiles dental practice in Leicester, we are treating an increasing number of patients with these discreet clear aligners.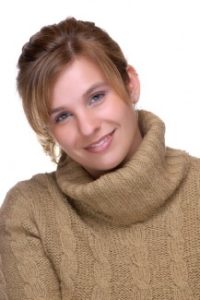 One of the most common wishes that dentists hear from patients is the desire to have straighter teeth. Perhaps you missed out on orthodontic treatment when younger, or had treatment only for your teeth to move back to their original position.
Many patients hear the word "orthodontics" and picture metal braces and head gear. However, thanks to massive advances in the field of orthodontics in recent years, your dentist now has several discreet treatment options available to them. Invisalign is among the most popular and versatile. At our Leicester dental practice, we offer this treatment to both adults and teenagers.
How Invisalign treatment works
Invisalign comprises a series of clear plastic aligners that fit comfortably over your teeth and guide them gently into a more desirable position. Every set of aligners is custom-made to fit each patient's teeth perfectly. You will need to change your aligner every couple of weeks as your teeth begin to move, and will need to wear a retainer at the end of treatment.
The number of aligners you will require will depend on the type and amount of correction needed. When you come in to our Leicester practice for you initial Invisalign consultation, your dentist will advise you how many aligners you will need and how long treatment should take.
At Aesthetic Smiles Leicester we use the latest 3D computer technology to enable your dentist to show you what results to expect before you start treatment.
As well as being clear – thus invisible to the world – Invisalign aligners are also removable, so you can take them out to eat and clean.
Back to Latest News