Invisalign – an invisible way to straighten your teeth
18th January 2016
Invisalign is an increasingly popular way for adults to straighten their teeth without the need to wear fixed braces. At Aesthetic Smiles dental practice in Leicester, we are aware that while many adults want to straighten their teeth, conventional braces do not always work well with busy professional and personal lifestyles.
What is Invisalign?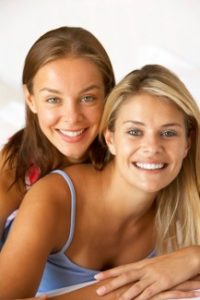 Invisalign is a system of clear plastic aligners that discreetly move your teeth into a new position. Each set of aligners is made to fit snuggly over your teeth, meaning nobody will notice that you are having treatment until you show off your beautiful new smile.
A further benefit of treatment with Invisalign is that the aligners are removable. This means you can take them out for short periods to eat and drink, to brush your teeth and to clean. While dentists recommend that you should wear your aligners for approximately 22 hours a day, the fact they are removable means that they have minimal impact on your day-to-day life.
Patients treated with Invisalign at our Leicester dental practice have average treatment times of between six and 18 months. The exact time of treatment in your case, and the number of aligners you will need, will depend on the type and amount of orthodontic correction required. Your dentist will discuss this at your initial consultation.
When you come into Aesthetic Smiles in Leicester for your first consultation, your dentist will establish whether Invisalign is the most appropriate treatment for your needs. Using photographs, impressions and special computer software, they will be able to show you what results you can expect before starting treatment.
Once your aligners have been made up at the laboratory, you will be called back to our Leicester practice to check they fit snuggly. You will need to change your aligner every couple of weeks as your teeth move.
Back to Latest News