Implant Retained Dentures: Sturdier Snappers
3rd September 2015
Denture wearers often struggle with their snappers – always worrying that they may fall off at unexpected times, or worse, when you are eating or talking to someone important. Not only is it an inconvenience, it is also embarrassing and can be a surefire way to lose your self-confidence in a matter of minutes.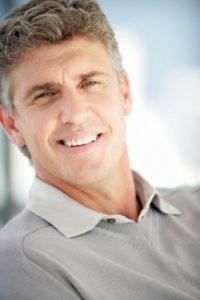 Fortunately, new advancements now offer a more effective way to keep your dentures in place. Implant retained dentures are a long-term solution that offers increased stability and sturdiness, and helps you retain the normal function of your mouth.
Implant Support
The secret to sturdier and more stable dentures are the implants. They replace the root part of the missing tooth, which serves as an anchor for the false set of teeth. As they lock your dentures in place, there is little to no chance of them falling out of your mouth.
These dentures are stronger and made of a more durable material than their ordinary counterparts, allowing you to retain your natural mouth functions. In particular, chewing, grinding and biting are easier and less of a hassle to do. The best part, however, is that it gives you the freedom to eat anything you want again without fear of loosening or damaging your dentures.
Preventing Resorption
Since this treatment involves implants, you also prevent resorption from occurring. This is a natural process wherein your body absorbs the tooth bone that no longer has any purpose once a tooth or a set of teeth is lost.
The dental implants trick the body into thinking there is still a tooth in place, preventing resorption and your face from sagging. It also prevents teeth misalignment, eliminating the possibility of more troublesome dental problems in the future.
At Aesthetics Smiles, our implant retained dentures are long-term and long-lasting solutions to replace your missing teeth. Contact us today for more information about our other dental treatments and procedures.
Back to Latest News