How dental implants can enable you to enjoy eating again
12th February 2016
Dental implants don't just help you get your smile back; they can also enable you to enjoy a healthy, balanced diet, including all your favourite treats, once more. At Aesthetic Smiles in Leicester, our implant dentists have helped scores of patients to get their confidence in their smile and their ability to eat whatever they choose back with the help of implants.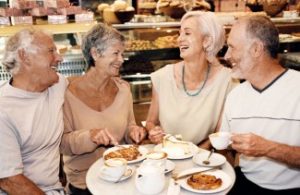 When you lose all or most of your natural teeth, you may find your diet is restricted to soft foods. Even if you wear traditional dentures, you may find that you are unable to enjoy a chewy steak or crunchy apple like you used to, because your dentures have started to come loose.
Dental implants prevent the problem of loose dentures and are the closest thing you can get to a whole new set of fully functioning teeth. At our Leicester dental practice, our experienced implantology team can replace one, several or all of your natural teeth with dental implants, combined with dentures, bridges or crowns.
Standard dentures often become loose because over time the jaw bone and gums start to shrink back. This means that while your dentures fitted well when you initially got them, they soon become ill-fitting and uncomfortable, and you may find yourself making regular visits to the dental surgery to have them adjusted.
Dental implants combat bone and gum shrinkage because they replace the root portion of natural teeth. They form a direct bond with the jaw bone, helping to prevent bone loss, and provide firm anchorage for your new teeth.
In some cases your new teeth and implants can be fitted at the same time, while in other cases a healing period is required. Your dentist will advise you of your best treatment route when you come for a consultation at our Leicester clinic.
Back to Latest News