General dentistry in Leicester
3rd May 2017
While taking care of your teeth at home is important, it is highly recommended to visit your dentist at least twice a year to maintain healthy teeth and gums. Even if you are a diligent brusher and flosser, factors such as smoking can harm your overall gum health, while plaque build-up will add to the increase of gum problems. Furthermore, some oral diseases can indicate the presence of other diseases such as diabetes or cancer. In this case, early detection by your dentist allows them to refer you to a specialist for further evaluation, or treatment.
At Aesthetic Smiles in Leicester, we can help you halt tooth decay and gum disease with our general dentistry services. Our experienced dentists are committed to diagnosing, treating and preventing oral diseases, as well as maintaining the function and appearance of your teeth and gums. For us, there is no dental concern too small or large and we are here to help you overcome your dental problems no matter how complicated they are.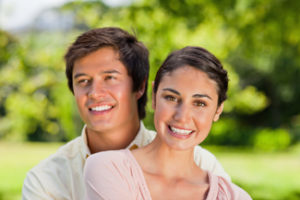 Our services
Our check-ups include a thorough and comprehensive evaluation of your mouth, including your soft tissues and neck, with the aid of digital x-rays. Evaluation includes oral cancer screening, jaw and bite movement and teeth condition.
We also offer professional teeth cleaning, scaling and polishing for the safe and permanent removal of plaque and tartar build-up from hard-to-reach areas in your teeth. Our treatments are designed to prevent bacteria from building up in your teeth and gums. Professional teeth cleaning, along with diligent oral care at home, makes it difficult for plaque to survive in your mouth and further reduces the risk of tooth decay and gum disease.
During our dental check-ups, we also offer gum disease prevention and treatment. This is really important because if gum disease is left untreated, it can lead to gum recession, or even tooth loss. Gum disease can be accompanied with sensitivity and redness. Where infection is present, your dentist will prescribe medication. If, however, your gums have started to collapse, we can discuss alternative treatments.
Book your appointment today
As dentists, we believe that when our patients are better informed, they can make healthier choices that will reduce the prospect of developing cavities or gum disease. To learn more or to schedule an appointment, call us today.
Back to Latest News