Does Kissing Affect Oral Health?
24th September 2015
On average, humans spend up to two weeks of their entire lifetime doing one thing: kissing. Fun as it may sound, there is apparently something healthy about it. Aesthetic Smiles, the region's centre of excellence in implant and cosmetic dentistry, weighs in on the science of kissing and its astounding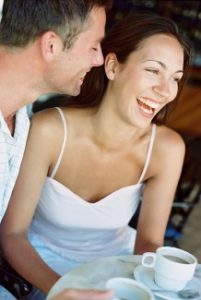 benefits to oral health.The science of kissing is called philematology. It studies the different effects kissing has on the body, from the release of chemicals to involuntary physiological responses. It also includes the ways in which kissing provides the human body with dental benefits. The Benefits of Kissing Other than stimulating antibodies and happy hormones, deep kissing also increases the flow of saliva, which is crucial in keeping the mouth, teeth and gums healthy. The exchange of saliva during kissing fuels a process called cross immune therapy, which helps fight cavities and infection. The more saliva your mouth secretes, the better your mouth is able to wash away the plaque on your teeth that leads to oral cavities. Increased saliva flow during a good kiss also prevents tooth decay and removes food particles that accumulate after eating. Other than the mighty effect that kissing contributes to the process of fighting infection and cavity, experts agree that kissing also promotes mineral ions that aids in the repair of small lesions in the tooth enamel. A Healthy Dental Regimen Despite the astounding contributions of kissing to the mouth's natural cleansing process and strengthening of the immune system, you still need to follow it up with proper dental habits and healthy dental hygiene regimen. Our dental experts here at Aesthetic Smiles encourage you to always brush and floss before going to bed, since sleep slows the production of saliva. Should you not happen to like the idea of kissing, you can always chew sugarless gum to get saliva flowing and your mouth cleaned up. Reach out to us if you need help getting your mouth cleaned up. We want you to enjoy good oral health, have confidence in your smile and feel comfortable when you visit us. Contact us today for a modern, friendly dental practice located in the heart of Leicester.
Back to Latest News