Do you want to find out more about children's dentistry?
4th September 2019
Whether you are a first time parent unsure of what to do when it comes to your child's teeth, or starting to worry about the condition of your child's smile for one reason or another, children's dentistry in Leicester could be exactly what your child needs. Taking your child to the dentist is vitally important as, if this is left to one side, they could develop teeth related problems early on and end up needing a lifetime of dental treatment in some cases.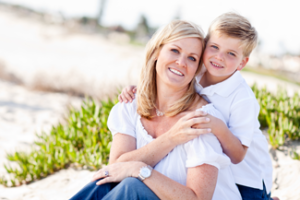 Our dental practitioners will do whatever they can to support both you and your child through any dental treatments that they may have to undergo at our practice. We understand that going to the dentist can be unsettling for adults, let alone young children, so we always go out of our way to make sure that your child is completely comfortable and at ease when they are receiving treatment.
What treatments are available?
There are several treatments available within children's dentistry in Leicester, ranging from a simple biannual check-up to more extensive dental treatments such as braces and jaw aligners. If you are worried about your child developing tooth decay then we even have a fluoride treatment that helps to strengthen their teeth which is tooth coloured as well, so it is barely noticeable. Our dental professionals will be able to recommend exactly what your child needs when you bring them to our practice for a check-up.
When is it time to start taking your child to the dentist?
Children's dentistry in Leicester has prevented hundreds of children from experiencing tooth decay. Here at Aesthetic Smiles we endeavour to achieve the smile your child desires and help them maintain it too. We believe that prevention should be the most important thing when it comes to your child's teeth, not just being able to resolve the problems when they arise.
It is suggested that you start bringing your child to our dental practice as soon as possible, as this will encourage them to familiarise themselves with the practice and our staff. Their first examination should be booked in with us when they get their first tooth. This can be any time before their first birthday. It is not unheard of for children to have no teeth before their first birthday, so if this is the case then you should make them an appointment with one of our dental practitioners when they are twelve months old, regardless of whether they have any teeth yet or not.
Your child will normally come to us for a routine examination twice a year, as this will allow our dental professionals to monitor their progress and ensure that their teeth stay strong and healthy. Our dentists will also be able to inform you if your child is developing an over or underbite. As with most dental quandaries it is a good idea to get this dealt with sooner rather than later, as it will most likely reduce the amount of time it will take to sort your child's smile out overall. The longer a dental issue is left the more likely it is to cause other problems with your child's oral hygiene, such as tooth decay and gum disease.
Back to Latest News