Dental implants: the perfect way to secure your dentures
29th February 2016
Dentures supported by dental implants provide much the same functionality as a natural set of teeth. At Leicester's Aesthetic Smiles, we know that many denture-wearers are concerned about their new teeth becoming loose and uncomfortable as time passes – they may even fall out in public. Using implants to support dentures is the perfect way to prevent this.
Why dental implants?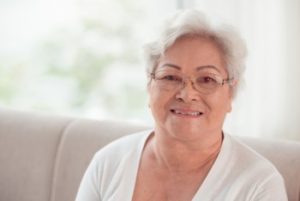 Dentists have used some form of denture to replace missing teeth since ancient times. Modern dentures are carefully designed to look and function much like natural teeth, but some patients still experience problems with their new teeth becoming loose over time. This often happens because standard dentures only replace the crown portion of a tooth. Without a replacement for the root, the jaw bone begins to resorb or shrink back, leading to loose dentures and a sagging appearance around the jowls.
Dental implants replace the root part of a tooth or teeth. These small titanium screws make direct contact with the jaw bone and support bone growth, providing a strong anchor on to which your dentures can be attached.
At Aesthetic Smiles in Leicester, our implant dentists have helped scores of patients to enjoy a new lease of life thanks to dental implants. The functionality and appearance of dentures attached to dental implants is the closest thing you'll get to natural teeth.
How treatment works
First, you will need to come in for a consultation with one of the implant dentists at our Leicester practice. They will examine you and check you are suitable for implants, before creating a treatment plan.
The good news is that you won't need as many implants as teeth. Usually, between four and six implants can support a full jaw of dentures. Your dental implants are placed under local anaesthetic here at our Leicester clinic. Your dentures may be attached immediately, or a healing period of a few months may be required.
Back to Latest News