Dental implants and new teeth – in just one day
29th January 2016
If you are considering dental implants to replace your missing teeth, you may be aware that traditional implants require a healing period of a couple of months before your new teeth can be attached. At Aesthetic Smiles in Leicester we have another option available – it's known as Teeth in a Day.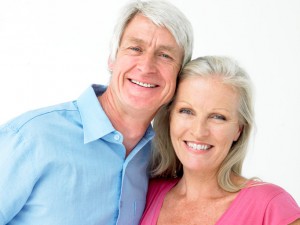 Teeth in a Day uses advanced techniques and the latest cutting-edge technology to provide you with new, natural-looking, natural-functioning false teeth at the same time as your receive your dental implants. This reduces the amount of time you need to spend in the dental surgery, and will have you smiling again more quickly than you might think.
While Teeth in a Day is effective in many cases, it is not suitable for everyone. The pros and cons of the treatment will be discussed in full by your dentist when you come into our Leicester practice for your initial implant consultation.
If Teeth in a Day is not the most suitable treatment option for you, there is no need to panic. Dental implants are now suitable for more patients than ever before, thanks to advances in techniques and materials. There are several implant options available at our Leicester practice, so we should be able to find the perfect one to suit your needs.
How dental implants work
Dental implants are small screws made out of titanium. They are placed directly in your jaw bone and act as bionic tooth roots. Because titanium is osteoconductive and very compatible with the human body, implants help to prevent the problem of bone loss that commonly occurs when teeth are missing.
Using a range of special attachments, your dentist can then affix highly realistic-looking new teeth to your implants. Depending on your needs, these may be dentures, bridges or crowns, and they will act just like natural teeth, too.
Back to Latest News