Cosmetic dentistry explored: One-visit smiles
4th March 2016
Cosmetic dentistry is a broad term that covers many treatments, all concerned with the aesthetic appearance of your smile. At Aesthetic Smiles in Leicester our skilled cosmetic dental team offer a large variety of treatments, and the good news is that some can be completed in just one appointment.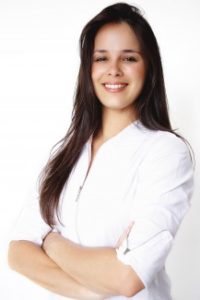 One-visit smiles is exactly what the name suggests – a complete restoration of a tooth or teeth in just a single visit to our Leicester practice. When many people think of cosmetic dentistry, they think of major, time-consuming procedures; the truth is, not every cosmetic dental patient require such extensive work.
At Aesthetic Smiles in Leicester we have a CEREC 3D machine that is able to create restorations such as crowns and veneers while you wait. If your teeth are worn, damaged or broken, this machine enables us to create tooth-coloured restorations quickly, so you can walk into the practice with damaged or worn teeth and walk out a few hours later with a brand new, beautifully restored smile.
The CEREC 3D machine is a major technological breakthrough for modern dentistry. It uses Computer Aided Design/Manufacturing (CAD/CAM) technology and includes a camera, computer, and milling machine. One of the biggest advantages for patients, aside from fewer visits to the dental practice and new teeth in one day, is that instead of impressions this machine uses scans and photographs, which is much more comfortable.
Many popular treatments from our extensive cosmetic dentistry menu – including veneers, inlays, onlays and crowns – can be created using the CEREC 3D machine. Your dentist will first remove any worn fillings or areas of decay before taking a 3D image of your tooth or teeth.
Restorations created by the CEREC machine will be closely colour-matched to the natural shade of your teeth and your dentist will ensure that they fit comfortably before bonding it to your tooth with a strong adhesive.
Back to Latest News