Bring your teeth back to health with crowns
6th February 2017
Decayed, damaged or altogether missing teeth can all be treated with high quality crowns by Aesthetic Smiles in Leicester. We provide a range of crowns to suit your personal needs and finances. Crowns not only restore function to your teeth but also relieve the cosmetic burden of damaged or missing teeth.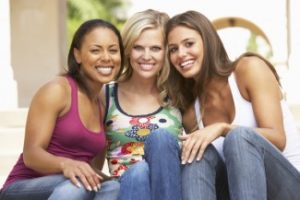 Why you might need a crown
Teeth can suffer damage for a variety of reasons. When a tooth is weakened or cracked as a result of decay or injury, a crown can protect it from further damage or breaking. Teeth that are severely worn down or broken can be reconstructed using crowns. Combining crowns with a bridge or dental implants can restore lost teeth. By filling the gaps created by tooth loss in this way, you will significantly reduce the chances of neighbouring teeth tilting and toppling. This will also help prevent irritation of your gums that can lead to inflammation. Crowns can also be used for cosmetic reasons to disguise misshapen, stained or discoloured teeth.
What are crowns and how do they work?
A crown is a tooth-shaped cap. It is either placed over the top of an existing tooth, which requires repair, or is attached to a bridge or dental implant to replace a missing tooth. At Aesthetic Smiles, our crowns are carefully designed to blend into the background of your existing teeth for a natural look. The size, shape and colour of your crown are all meticulously crafted to ensure a seamless finish.
What are crowns made of?
We offer several options for crowns in Leicester, which each have different benefits and costs. Our experienced dentists will be able to guide you through each of these options. Taking into consideration your particular situation, together we will arrive at the best option for you. We provide crowns made from porcelain, glass or zirconium; all of which will give you a natural look and feel.
Why choose us?
Our highly trained dentists will develop a personalised treatment plan based on your individual needs and dental health. Combining our experience with the latest dental technology, you can look forward to reliable and long lasting results.
Back to Latest News